When I returned home there was some culture shock to work through, women's skirts had gotten short and men's hair had gotten long. I had grown up with a flat top, so when the Army sheered my head it wasn't all that big of a deal. Since barbers were far and few between where I was in Vietnam, my hair had actually grown out enough to comb for the first time in my life. With a few more months of hair growth and sporting new sideburns, I was beginning to look like I belonged in the 70's. After returning to civilian life, I did have one recurring nightmare. I would wake up in a cold sweat believing I had returned to active duty because of some clerical error. Although, I had only served two years in the military, the normal four years of active reserves had been waived because I had served in Vietnam. Thinking I had totally completed all my active duty, I couldn't imagine why a phone message left with my parents said I needed to contact a Colonel with the Dallas Army Reserves.

Feeling the cold sweats returning, I called the Colonel. He asked if I would be available on Sunday afternoon for presentation of my Bronze Star with "V" device. I told the Colonel I wasn't aware I had been awarded the Bronze Star. He said he had the orders in front of him and if I would show up at Herzog field they would present it to me.

My very first thought was my new 70's look and my Military Uniform would definitely clash. My only question was "Can I accept it in civilian clothes?" The Colonel asked if I was ashamed of the uniform. I told him 'No' that on the contrary I wasn't sure my new look would honor the uniform and I didn't want to cut my hair and start my move to civilian life all over again. The Major told me a suit would be fine and I agreed to show up.

While I was serving in Vietnam I was honored when I was told I had been awarded the 'Combat Infantry Badge'. It was awarded for serving in an infantry unit that had engaged in active ground combat with an enemy force. I had met the requirements, so I knew I would wear the badge with pride.

As I processed out of the Army I was told I had been awarded the "Army Commendation Medal". Since I was in a hurry to get home I didn't complain when it was just handed to me along with my other military papers. I later read the Citation:
The Army Commendation Medal is presented to Sergeant Gallion who distinguished himself by exceptionally meritorious service in support of allied counterinsurgency operations in the Republic of Vietnam. During the period January 1969 to January 1970 while serving as a Squad Leader he astutely surmounted extremely adverse conditions to obtain consistently superior results. Through diligence and determination, he invariably accomplished every task with dispatch and efficiency. His unrelenting loyalty, initiative and perseverance brought him wide acclaim and inspired others to strive for maximum achievement. Selflessly working long and arduous hours, he has contributed significantly to the success of the allied effort. His commendable performance was in keeping with the finest traditions of the military service and reflects distinct credit upon himself and the United States Army.

It did read well, but I wondered if it was just a perk that went with my rank, along with not causing any trouble that made the official record.

The military has their own complex ranking of their medals, but as an infantry soldier I assumed the simple basic categories were
the "Congressional Medal of Honor" for dead heroes,

"Silver Star" for heroes with hospital time, and

"Bronze Star with 'V' device" for heroes that didn't need to go to the hospital.

After I hung up from speaking with the Colonel I realized I still didn't know what I had done to deserve a "Bronze Star". Seems like, if I had done something heroic I would remember it. Surely it must have involved contact with the enemy as I started taking inventory of my year in Vietnam.
There was Valentine day when I was shot at for the first time by a friendly village. It did take a lot of self control to not shoot back, but laying in the road doing nothing while some friendly villagers shoot at you, didn't seem like medal material.

In March at LZ Bass the enemy attacked our firebase. Since, the special force's camp was across the runway from my position we were ordered not to shoot unless we had a clear target. We defended our position without firing a round. I did run to get the gas masks out of the APC when the pallet of tear gas caught on fire, but still a little weak for a medal.

There was the time my APC was hit by a rocket at night and caught on fire. Although the resulting fire was spectacular, if there were any heroes it would have been the tank that came to our rescue.

There was the highway incident where we were ambushed before we could set up our own ambush. I did try to save the NVA soldier we shot, but my first aid skills were not able to keep him alive long enough to question him.
My squad did take some initiative to go out and help the other tracks that had just been ambushed outside our LZ, but if anyone deserved a medal from that day it would have been Doc Cressman.

There was the big bunker complex my LRRP team discovered. A lot of money was spent blowing up an empty complex, but surely the Army wouldn't try to sell the mission as a success by giving me a medal.

There were the NVA soldiers that walked past my LRRP team. We did call in gunships and artillery. Maybe the platoon that relieved us the next morning did find something of interest and I was never told.

Right after I was sent back to the mechanized unit our company was ambushed on the road to Plei Mrong. I did gather up some rifles from the wounded, but the Army's threat of an Article 15 for keeping the rifles didn't make a medal very likely.

We did repel the enemy the night Cpt. Bates was wounded. It was a hard night, but nothing to single me out from the others.

I did show up at the Dallas Reserve base on Sunday with my mom and dad. My dad had been a career soldier. As a young soldier he stood on guard duty in Hawaii, as he watched Japanese planes fly in and attack the ships at Pearl Harbor. He spent the war years in the Pacific at places called Canton Island, Makin Island and Saipan. With my parents standing close by and a company of reservists standing at attention in front of me the Colonel started reading.
For heroism in connection with military operations against an armed hostile force in the Republic of Vietnam, Sergeant Gallion distinguished himself while serving as a Squad Leader with Company A, 2d Battalion, 8th Infantry, 4th Infantry Division. On 2 November 1969, while conducting a sweep through an area north of Plei Mrong, elements of Company A were engaged by a large enemy force. During the contact all the weapons on Sergeant Gallion's armored personnel carrier became inoperable. With complete disregard for his personal safety, Sergeant Gallion ran through heavy enemy fire to gather the weapons from a disabled tank and bring them back to his APC. Once again armed, Sergeant Gallion's crew was able to lay down a devastating volume of fire on the enemy. Sergeant Gallion's personal bravery, outstanding performance and exemplary devotion to duty are in keeping with the highest traditions of the military service and reflect great credit upon himself, his unit and the United States Army.
He then pinned the Bronze Star medal to my suit coat. I did recognize the events in the citation, but hearing the actions painted with such heroic words sounded strange to me. I looked over at my Dad as he stood proud and a strange feeling overcame me. I recalled the rows of ribbons he wore on his Army uniform from all of his WWII campaigns and I realized I was not the only person that knew my dad was a hero, the Army knew it, too. I suddenly felt honored and proud to receive this award in the presence of a real American Hero, my Dad.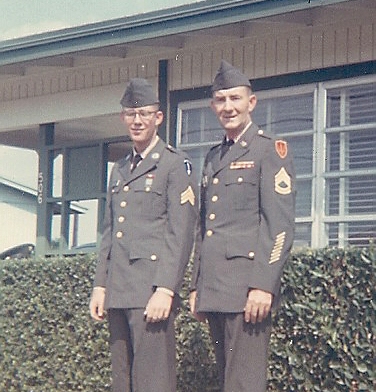 Warren with Dad before Vietnam
Newspaper Clipping